Sustainability survey summary report 2018
Report
Sustainability

Login to view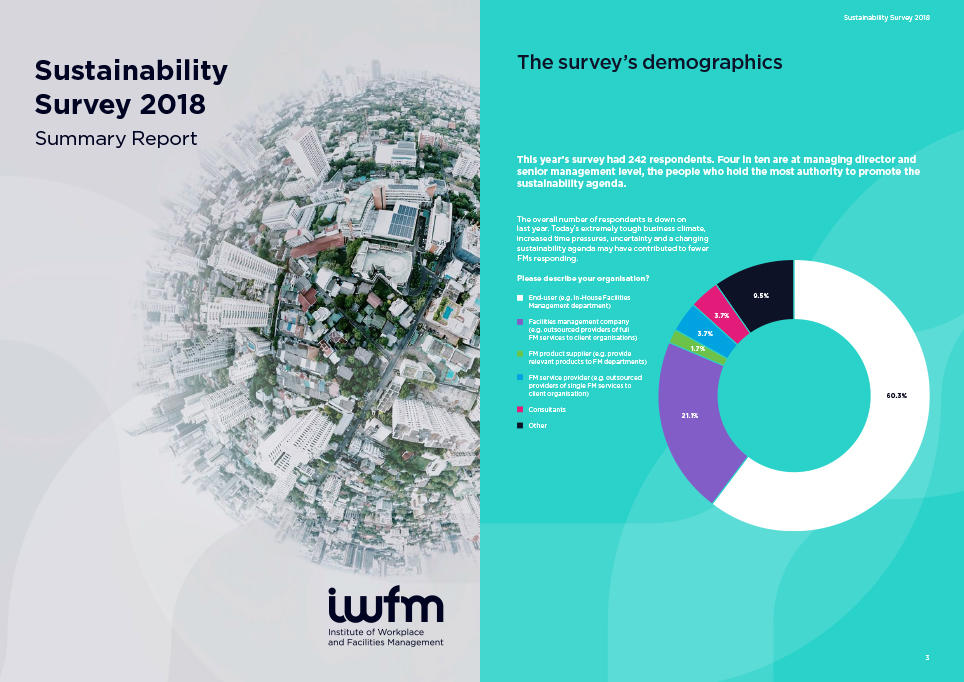 The 2018 report highlights the re-defining of the sustainability agenda, which as well as comprising environmental concerns also embraces economic and social improvement measures, increasing the use of social value terminology and wellbeing.
At the heart of this new agenda - which was detected in chrysalis-like form last year - are companies that believe in genuine social values as well as operating in more sustainable ways. An IWFM Social Value Leaders Forum earlier this year also confirmed the strength of this trend.
This year's survey reflects the rising awareness amongst the general public of sustainability issues. Programmes like the BBC's Blue Planet, highlighted the plight of ocean pollution caused by the widespread and irresponsible use of plastics, have captured the public imagination and are impacting on corporate life at many levels.
Businesses are continuing to respond to these pressures too. As well as reducing energy use and wasting less materials, offices are changing to enhance their internal environments (lighting, temperatures, air quality), promoting health and wellbeing and embracing more agile ways of working with the aim of becoming more productive as well as sustainable places to work.
Increasingly, though, businesses want to be able to measure and place a financial value on the effect these changes are having as this will help to demonstrate they are delivering much more than what is sometimes perceived as "just a commoditised service". Especially in the area of social value, there is a demand for this monetisation because procurement activities need to recognise the benefit of social value beyond the bought 'core services'.
This year's survey was completed by 242 candidates.
Log in to view more
This resource requires you to login or purchase before viewing. Access these downloadable pdfs in a format that helps IWFM reduce its carbon footprint but also quick and convenient to read on screen. To join IWFM and find out more about how you can access Good Practice Guides free of charge please visit iwfm.org.uk/membership