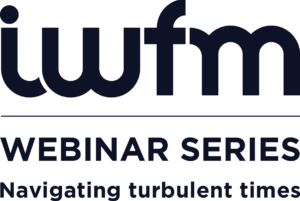 Navigating turbulent times
In a strategic move that was accelerated by the onset of COVID-19 lockdown measures, IWFM has launched 'Navigating turbulent times': our regular webinar series where a variety of expert guests delve into the global economy's greatest challenges, tackle your questions and concerns, and help to guide our profession.
Scroll down to catch up on past episodes, register for future episodes, and explore the Q&As we have compiled from a selection of viewers' questions.
Introduction
Workplace and facilities management professionals have an essential role to play during and after the coronavirus pandemic; while COVID-19 raises fresh challenges and highlights pre-existing issues, industries also continue to be impacted by global megatrends, such as sustainability, technology, the future of work, and wellbeing.
In these times of increasing disruption and uncertainty, how does our profession manage risks, maintain performance, overcome challenges, learn from outcomes, and come out the other side to push on and succeed? With so much information circulating, it can be difficult to know what steps to take next.
Join us and our expert guests every fortnight and together we will navigate these stormy waters.
Next episode
Upcoming episodes will appear here.
Previous episodes in the series