Introduction
IWFM is committed to placing equity, diversity and inclusion (EDI) at the heart of our organisation, governance, membership and profession. We seek to create a community in which all people feel included, valued, supported and that they belong. Our ambition is to foster and support improved EDI practices throughout the workplace and facilities management profession and industry to achieve better outcomes for all. Morally and socially, we believe that this is the right thing to do.
We have created a Focus Group to help us shape and articulate our position and approach on EDI and have published a Public Statement outlining our commitment to this initiative, including how we will collect, analyse and use data to help us understand and break down barriers. Our Action Plan implementing the Public Statement will be published here shortly.
Why is this important to us?
It is important because, while the workplace and facilities management sector is increasingly diverse, this is not reflected throughout. The greatest diversity is generally found in those teams delivering the services for which the profession is responsible, rather than in those running them. While we are seeing that our entry levels for the profession are increasingly diverse, we need to do more to reflect this across career pathways at all levels.
Ensuring that we are a diverse and inclusive organisation will allow us to strengthen our ability to support our members and raise their voice, both individually and collectively, on a wide variety of matters. It will also permit us in future to better respond to, and influence effectively on, key issues affecting our members' working lives.
Diversity expands the talent pool, adds perspective and enriches thought, innovation and influence enabling us to promote better inclusion, and allowing everyone to flourish and progress.
What is equity?
Equity extends the concept of equality to include the provision of varying levels of support based on individuals' specific needs in order to achieve fairness of treatment and equal opportunity of access. Achieving equality requires the application of policies which ensure equity.

What is diversity?
Diversity is recognising and respecting all the visible and invisible differences between people. This could be in relation to a protected characteristic or something else such as socio-economic background, working pattern, cognitive diversity, or caring responsibilities.
It is acknowledging the benefit of having a range of perspectives in decision-making and the workforce being representative of the organisation's customers: diverse teams, boards and workforces produce better outcomes.
What is inclusion?
Inclusion is where people's differences are valued and respected, enabling everyone to thrive at work. Without inclusion, the benefits of diversity (such as increased creativity, innovation and problem solving) cannot be realised.
An inclusive working environment is one in which everyone feels that they belong without having to conform, that their contribution matters; and they are able to perform to their full potential, no matter their background, identity or circumstances. An inclusive workplace has fair policies and practices in place and enables a diverse range of people to work together effectively.
Strategy and activities
Our approach to developing and embedding EDI culture, practices and policies is based on four pillars: governance and leadership, HR and our people, our membership and the profession.
Our aims are:
to provide clarity about IWFM's position as an employer and professional body and demonstrate leadership through its structures and practices
to be a diverse and inclusive employer that enables everyone to be their true self at work and to own and drive inclusivity, diversity and equality
to increase the diversity of individuals joining the Institute
to increase the diversity of the profession overall
Our Public Statement outlines these aims and commitments in greater detail. We will update our EDI Action Plan with our planned and ongoing activities as these are developed over time. This Action Plan will be integrated into our multi-annual strategy 2022-2025.

Data and research
We need a solid evidence base in order to identify and understand the gaps and challenges that exist, to implement the concrete and measurable improvements needed to break down barriers to entry and progression, to report on progress made, and to make the greatest possible impact.
This will come from scientific studies, surveys and the professional expertise of key stakeholders, our members and the wider profession. The collection of personal data for the purposes of EDI monitoring, especially that of protected characteristics (these are defined under the Equality Act (2010) and include age, disability, ethnicity, gender, pay, sex and sexuality) will be key to understanding and responding to EDI issues and barriers. Collecting such data is considered standard good practice in many membership organisations. We are also collecting socio-economic data to make sure that the changes in diversity we hope to bring about create access for all, rather than, for example, access being disproportionately available to those from a privileged background.
Collecting such data will help us to:
identify, develop and encourage best practice in EDI
develop resources to support our members
analyse, inform and report on EDI trends within our membership and the profession
understand and meet the EDI needs of our members
inform our work and its impact, and develop our plan of action
All sensitive personal data, which will only be collected with explicit and informed consent, is kept strictly confidential, protected and handled in accordance with the UK GDPR. This information is restricted and accessible only by the necessary, authorised personnel and will not be shared in a way that allows any individual to be identified.
Please see our Privacy Policy for full details of what personal data we collect, how it is collected and stored, how it may be used - with specific practices on data, including that on protected characteristics, collected for the purposes of EDI monitoring - and how it is protected in law.
EDI Focus Group
This Group was formed to help us shape and articulate our position and approach on EDI, looking at our practices, strategy and policies to ensure we enable the conversations and steps needed to improve EDI within the Institute and, through our members, the profession.
They will help us to understand the barriers to greater EDI within the profession and explore tools to overcome them, driving initiatives and challenging our focus and priorities. Together we will gather, analyse and share data to inform our actions, highlight opportunities for meaningful action, monitor progress, and celebrate achievements which exemplify 'what good looks like'.
The Group helped us to finalise our EDI Public Statement and is contributing to shaping the annual and three-year action plans which will form an integral part of IWFM's overarching strategy.
Each member of the group is a workplace and facilities management professional with significant experience, insight and expertise relating to EDI policy and implementation. They are:
Useful resources
EDI Public Statement
EDI Focus Group Terms of Reference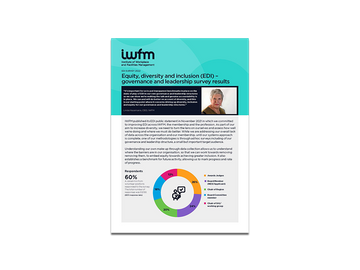 28 July 2022
Building on November's EDI public statement in which we committed to improving EDI acr...