IWFM compliance guide
Guidance note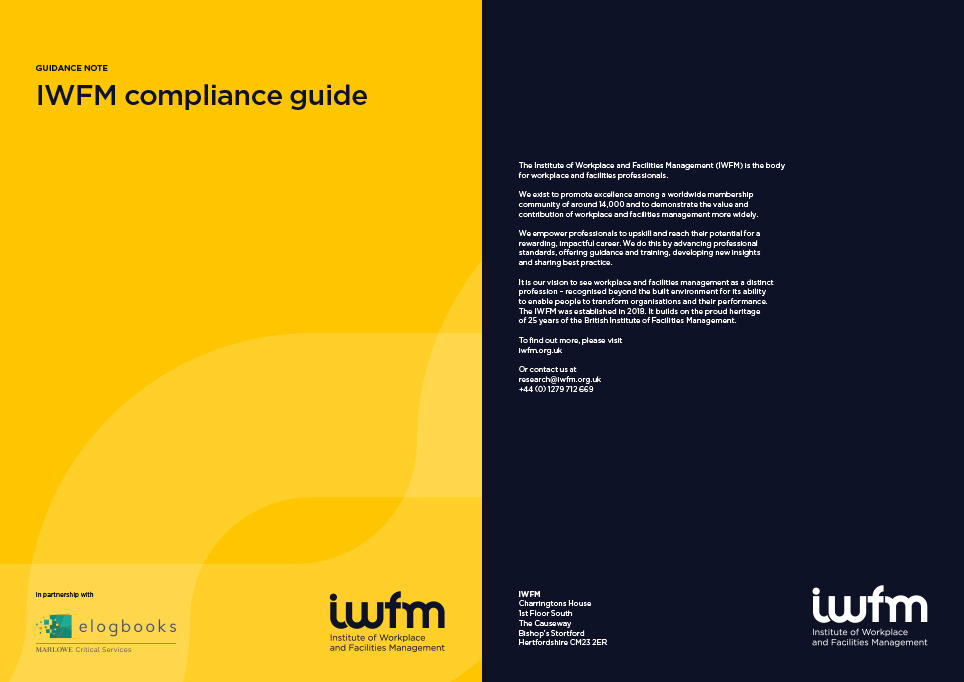 Overview
At times it seems that the workplace and facilities management profession is beset with contracts that are never set up correctly, often resulting in disputes once the contract gets underway.

In some cases, this is due to a lack of understanding or appreciation of the client's requirements on the part of the provider at the commencement of the contract. In most cases, this is further impacted by a lack of knowledge and facilities management data, including asset management records on the part of the client, leading to serious compliance gaps within the client portfolio and resulting in serious issues associated with risk management for all parties involved.
Elogbooks company bio:
Elogbooks creates market leading facilities management software (CAFM) applications and also provides an invaluable integrated 24/7 client branded helpdesk solution, utilised by the world's leading property & asset managers in over 16,000 buildings nationwide. Working in partnership with FM's across the industry we've developed a number of solutions to improve the working lives of our users, by helping deliver better facilities management services. These include our award-winning energy management platform which integrates cutting-edge sensor technology to manage plant efficiency and tenant wellbeing, along with an occupier portal which helps streamline building management processes, such as visitor management, meeting room bookings and documentation handling, which better enables user communication and engagement.
Log in to view more
This resource requires you to login or purchase before viewing. Access these downloadable pdfs in a format that helps IWFM reduce its carbon footprint but also quick and convenient to read on screen. To join IWFM and find out more about how you can access Good Practice Guides free of charge please visit iwfm.org.uk/membership