Agile working change management
Guidance note
Technology,
Workplace

Login to view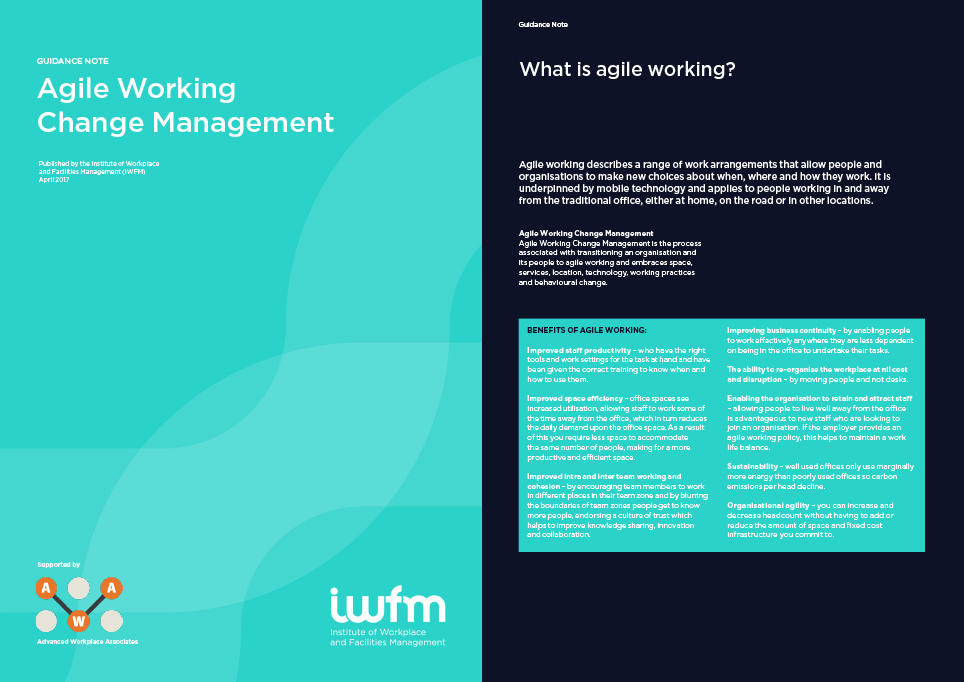 This Guidance Note was first published by the British Institute of Facilities Management (BIFM) which became the Institute of Workplace and Facilities Management (IWFM) on 12 November 2018.
What is agile working?
Agile working describes a range of work arrangements that allow people and organisations to make new choices about when, where and how they work. It is underpinned by mobile technology and applies to people working in and away from the traditional office, either at home, on the road or in other locations.
Agile Working Change Management
Agile Working Change Management is the process associated with transitioning an organisation and its people to agile working and embraces space, services, location, technology, working practices and behavioural change.
What's different about the change to agile working?
Unlike traditional workplace changes, which have typically involved 'one person per desk' and projects that were largely under the direct control of the FM, the introduction of agile working requires a highly integrated choreography involving close working between IT, telephony, security, FM, interior design, HR, risk, communications, working together within an integrated programme to design, deliver and manage an integrated infrastructure and deliver a concurrent and sustainable change in behaviour.
Have a question about this product? Contact our research and insight team at [email protected]
Log in to view more
This resource requires you to login or purchase before viewing. Access these downloadable pdfs in a format that helps IWFM reduce its carbon footprint but also quick and convenient to read on screen. To join IWFM and find out more about how you can access Good Practice Guides free of charge please visit iwfm.org.uk/membership