Connecting with the industry at Facilities Show 2022 
News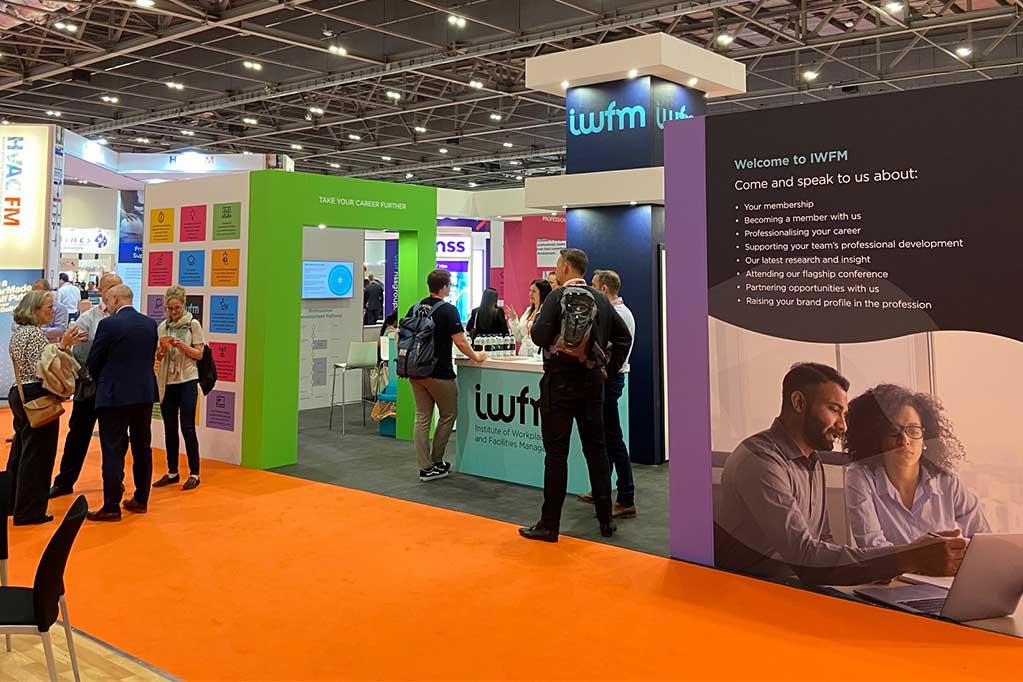 After three years, it was great to be back as Show Partner and exhibiting at the Facilities Show 2022 at London ExCel on 17-19 May. It was fantastic to see the community finally come together, in-person, for business, networking and celebration.
There was a lot to showcase on the eye-catching IWFM stand which was busy for all three of the days. Visitors were able to download insight and guidance from the interactive library wall using QR codes and help themselves to bottled water sponsored by PTSG. Great connections were made and quality conversations were had with the top enquiries being around applying for membership, upgrading to a higher membership grade, qualifications, in-house training and professional development, and how to raise brand awareness through our sponsorship and partnership opportunities.
IWFM Chair Mark Whittaker commented on LinkedIn:
'Lots of visitors to the team on the Institute of Workplace and Facilities Management stand, discussing membership and training/qualifications, finished off by a really well attended IWFM Rising FMs Specialist Interest Group networking event.
'Great to see so many familiar faces again, people I had only met on Teams calls before today and several new connections.
'My thanks to the IWFM team and volunteers for their hard work, commitment and passion today.'
IWFM led two seminars across the event:
'FM's role in a time of economic warfare' - Facilitate Editor Martin Read chaired this discussion with expert guests including Julian Fris, IWFM Catering SIG committee member, on the uncertainty of the UK and world economies and the mitigating potential of FMs.
Turbulent times: FM's best upskilling opportunity? - IWFM Chair Mark Whittaker chaired this session with expert guests including IWFM's Head of Policy Sofie Hooper, IWFM Deputy Chair Andrew Hulbert and IWFM Rising FMs committee member Conrad Dinsmore to discuss the skills crisis in workplace and facilities management and what it will take to fix it.
On the Wednesday, the IWFM Rising FMs committee joined the IWFM stand to discuss careers, apprenticeships, and workplace and facilities management as a career of choice, before heading over to the Novotel for their networking event.
Thanks to everyone who stopped by to say hi.
If you would like to follow up with us regarding your membership, becoming a member, partnership opportunities, or any professional development requirements please contact our
Membership and Customer Engagement team on +44 (0) 1279 712 650 or email [email protected]