Recycling, Waste and Resource Management
Good practice guide
Soft services,
Sustainability

Member only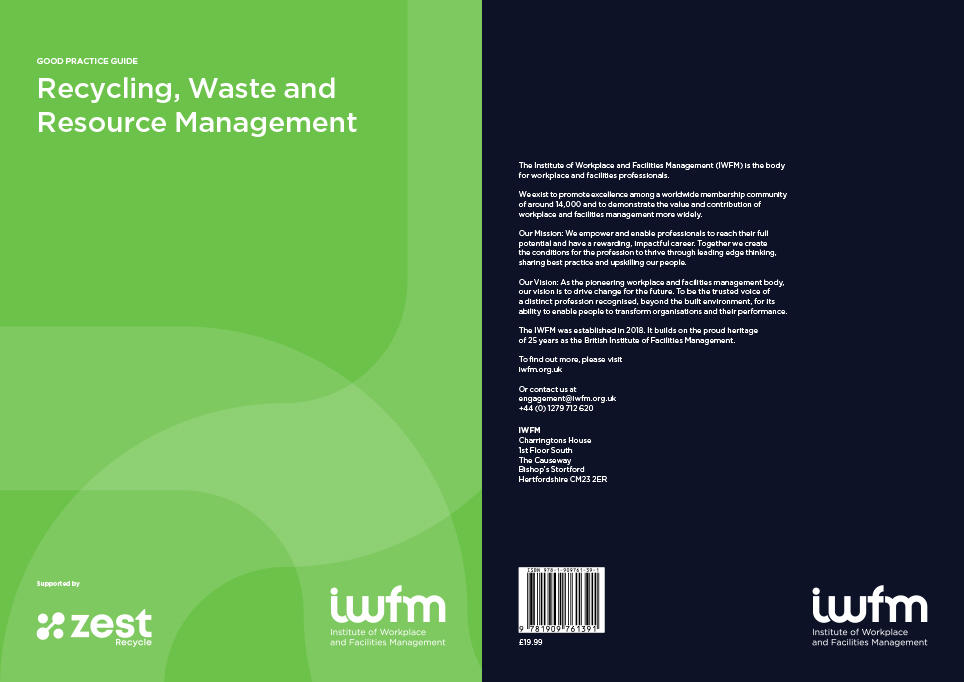 Overview
Welcome to the good practice guide to recycling, waste and resource management.
Businesses are increasingly expected to have a positive impact on the environment and society, with pressure coming from all stakeholders including clients, employees, shareholders and the government. It's no longer acceptable to be only meeting legislation and managing waste in a cost-effective way that minimises its environmental impact. Businesses must now manage their waste in a way that supports broader sustainability goals and particularly net-zero targets.
About Zest Recycling
At Zest Recycle, we like to do things differently. We take the norm and turn it on its head, providing our clients with a fresh perspective on long-standing recycling and waste management problems. We achieve this through our ethos of making meaningful connections, finding sustainable solutions and building long-lasting partnerships.
We specialise in providing total waste management solutions to companies with multiple sites, multiple waste streams and more complex waste requirements. We have a wealth of experience in this kind of comprehensive waste management and our waste expertise spans a range of different sectors, including manufacturing, facilities management, healthcare, hospitality, logistics, education and the public sector.
We have a very specific approach to waste management, which allows us to provide the best service for our clients utilising our network of regional, specialised supply chain partners, so we can tailor our services to each and every client, no matter where they are in the UK.
Contact us: [email protected] | www.zestrecycle.co.uk
Have a question about this product? Contact our research and insight team at [email protected]
Log in to view more
This resource requires you to login or purchase before viewing. Access these downloadable pdfs in a format that helps IWFM reduce its carbon footprint but also quick and convenient to read on screen. To join IWFM and find out more about how you can access Good Practice Guides free of charge please visit iwfm.org.uk/membership