The Stoddart Review - The Workplace Advantage
Report
Future of work,
Workplace

Login to view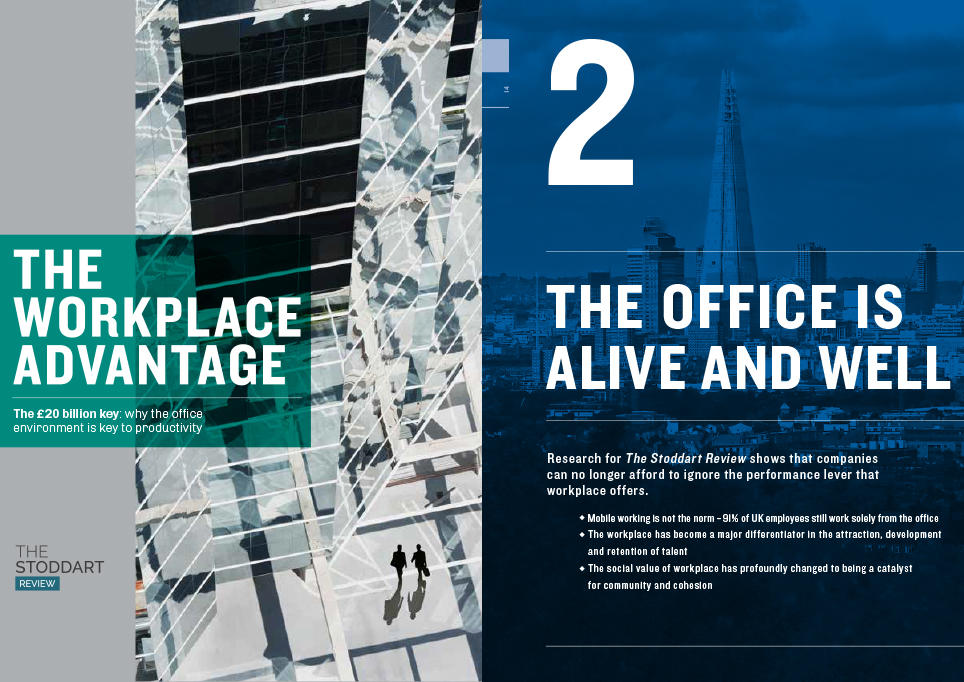 The Stoddart Review continues the work of an industry giant: Chris Stoddart, MCIOB, FBIFM. Formed by the British Institute of Facilities Management (BIFM) and founding partners privileged to have worked with Chris, it exists to raise awareness among business leaders of the importance of the workplace and real estate as a key performance lever. It is independent and cross-industry in its perspective.
Much has been said in the media about the productivity gap but little connection has been made about the vital contribution of the workplace as a performance inhibitor or facilitator. The Review unequivocally makes the case and shares best practice, leading opinion and data.
For many enterprises, workplace delivery and management falls within the remit of facilities management professionals, Chris played an active leadership role in BIFM, the professional body for facilities management. The Review seeks to encourage executive leadership teams to ask deeper and more probing questions of how well their workplaces are contributing to the success of their organisations.
The Stoddart Review is a not-for-profit initiative. The founding partners of The Crown Estate, Cushman & Wakefield, Joanna Lloyd-Davies and Polly PlunketCheckemian, with BIFM acting as host organisation, have volunteered their time with contributions from supporting organisations, business leaders, industry experts and our research partners, namely Leesman Index and Sheffield Hallam University, to highlight the workplace as a key lever to increasing UK productivity. Inevitably, the Review poses many questions and seeks to provide both evidential and experiential-based answers, but it is the business leaders and workplace professionals who are encouraged through this report to take this conversation forward.
Log in to view more
This resource requires you to login or purchase before viewing. Access these downloadable pdfs in a format that helps IWFM reduce its carbon footprint but also quick and convenient to read on screen. To join IWFM and find out more about how you can access Good Practice Guides free of charge please visit iwfm.org.uk/membership