Winter maintenance
Good practice guide
Facilities,
Soft services

Member only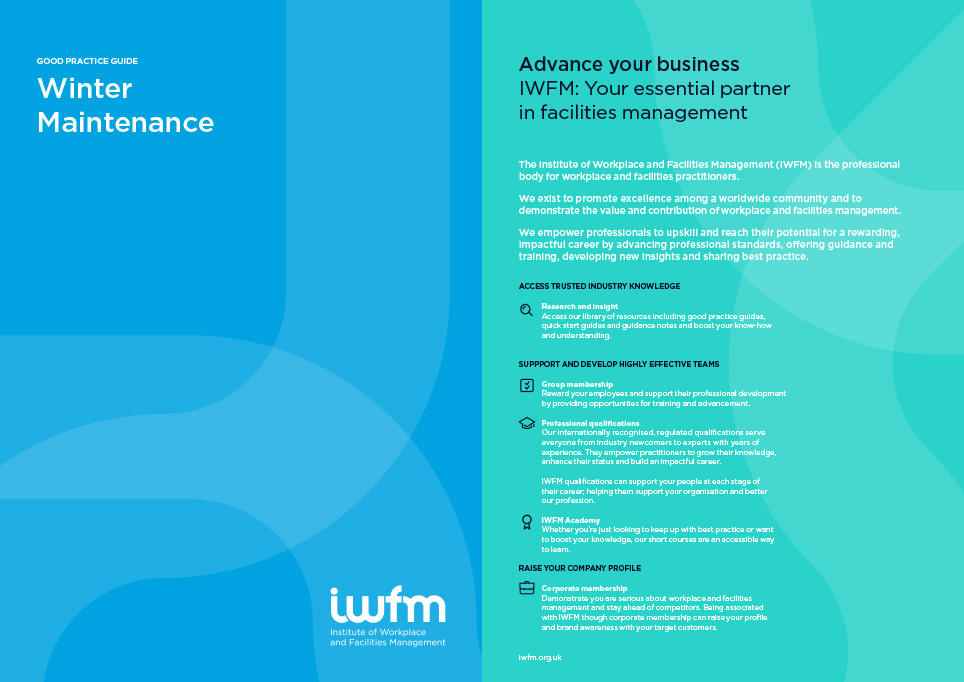 This Good Practice Guide (GPG) was first published by the British Institute of Facilities Management (BIFM) which became the Institute of Workplace and Facilities Management (IWFM) on 12 November 2018. It is currently branded as BIFM and is in the process of being rebranded to IWFM.
Is your property ready for winter? This guide explains how to prepare your property's interior and exterior for adverse weather and manage it throughout winter, including grounds maintenance.
After reading, you'll know how to create a robust winter maintenance plan that's in-line with your organisation's strategic objectives. You'll understand how to manage risk and adhere to the insurer's expectations while supporting business continuity.
This guide is supported by GRITIT.
*This guide incorporates information from the IWFM members' survey on winter maintenance and is aligned to IWFM qualifications at all levels.
Have a question about this product? Contact our research and insight team at [email protected]
Log in to view more
This resource requires you to login or purchase before viewing. Access these downloadable pdfs in a format that helps IWFM reduce its carbon footprint but also quick and convenient to read on screen. To join IWFM and find out more about how you can access Good Practice Guides free of charge please visit iwfm.org.uk/membership